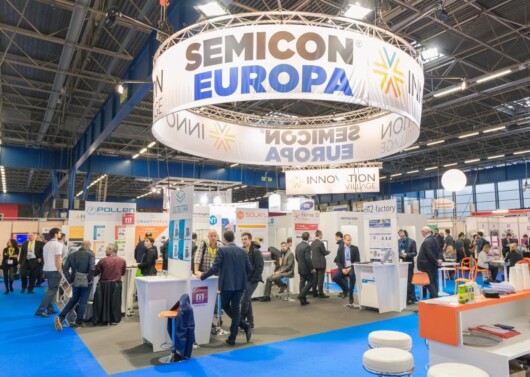 9. November 2017 | News
Meet the AND at SEMICON Europe and productronica in Munich!
In November, the high-tech industry will come together in Munich to experience the latest developments and industry trends for manufacturing electronics. With productronica and SEMICON Europe under one roof in Munich, you can look forward to an exciting event, insightful presentations and conversations.
AIS
Equipment Lifecycle Management
Predictive Maintenance
Machine Learning
Booth: B2 – 363 & B1 – 1815
more
Fabmatics
Robotics and Automation Systems for Material Handling and Production Logistics Applications:
Mobile Robots, Robot Cells
Transport & Storage Systems
Identification & Localization Solutions
Booth B1.416 and Fabmatics Mobile Robot Area in Entrance Hall West
more
SYSTEMA
Integrated Manufacturing Execution
Business Process Automation
Optimization with the "Digital Twin"
Booth B1.416
more
XENON
We have optimized the following processes for you:
The casting of components in the vacuum
Patented vacuum dispensing system with extremely short process time and flexible vacuum chamber
The machine operation
Independent and mobile user access to all machines and process functions
The exchange of the workpiece carrier
Positioning unit in the transfer system with fast intake for cycle times such as at the Rotary indexing table
Booth A3.225
more
About SEMICON Europa
SEMICON Europa is the global exhibition for manufacturing supply chain leaders in semiconductor technologies in Europe. Connect to strategy and new ideas from Europe's decision makers and largest players within the electronics industry. The world's innovation starts here, in Europe, and at SEMICON Europa.
Learn more about SEMICON Europe: www.semiconeuropa.org