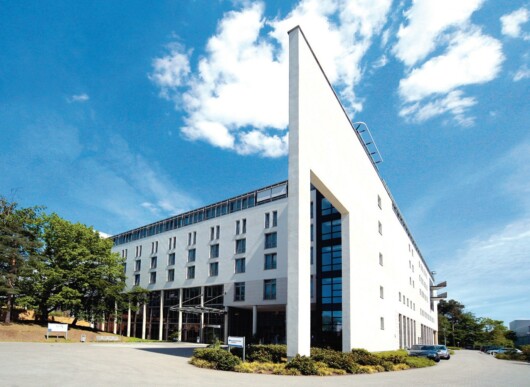 Accomodation
We have secured preferential rates for you
Located in north Dresden on the edge of Dresden Heath, the Akademiehotel will delight you with its unique atmosphere. The building ensemble is an elegant blend of both historic and modern architecture, and welcomes you with a well-lit foyer offering wonderful views across our campus.
Koenigsbruecker Landstrasse 2
D-01109 Dresden
Tel.: +49 351 457-3010
Fax: +49 351 457-3015
Email: akademiehotel@dguv.de
Whatsapp: +49 351 457-3010
Skype: akademiehotel.dresden
Twitter: @akademiehotel
Web: www.dguv.de
Due to the direct location on the main recreational area of the city of Dresden, Dresdner Heide, you enjoy absolute tranquility and are still fast in Dresden's Old Town.
With the mightyTwice Hotel Dresden, they are opening the second twiceHotel in Germany and the first of its kind. In addition to their two tinyTwice hotels in Wiesbaden and Bonn, it is the first mightyTwice hotel with additional services and features. Of course, the very special twice-spirit and the unique design concept will not be missing. They came up with something very special for our new place in Dresden's Neustadt … see for yourself!
mightyTwice Hotel Dresden
Königsbrücker Str. 121a
01099 Dresden
Tel. +49 (0)351 8063-0
Email: dresden@twicehotels.de
Web: https://www.twicehotels.de/dresden