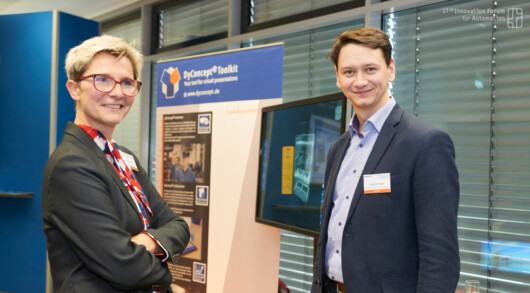 Sponsorship Possibilities
Promotional Opportunities
Silver Package
€

1.000
Get your company in the spotlight with this popular sponsorship package.
Gold Package
€ 3.000

Participation as a gold sponsor offers an excellent way to raise your profile at the event with a combination of promotional, onsite visibility and content-related benefits combined into a value-priced package.
Platinum Package
€

5.000
Only offered once per conference day a platinum sponsorship is reserved for industry-leading companies. They comprise the most desirable and effective promotional elements of our conference and will receive the highest level of support from the management team.
Club Package
€

5.000
Present your company exclusively at our popular evening event. In a relaxed and convivial atmosphere, your company will receive a unique attention from our participants. Supplemented with promotional elements on conference days and in the run-up to the event a must-have for industry-leading companies.
Open Feature Comparison
| | Silver | Gold | Platinum | Club |
| --- | --- | --- | --- | --- |
| Tickets for Conference & Evening Event | 1 | 2 | 4 | 3 |
| Logo on Website | ✔ | ✔ | ✔ | ✔ |
| Logo, Text & Links on Microsite in the App & on Website | | ✔ | ✔ | ✔ |
| Logo in all E-Mail Blasts | | ✔ | ✔ | ✔ |
| Social Media Promotion | | ✔ | ✔ | ✔ |
| Displaying Flyers in Conference Area | ✔ | ✔ | ✔ | |
| Booth in Conference Area | | ✔ | ✔ | |
| Logo in the Presentation during Opening & Break | | ✔ | ✔ | |
| Roll Up on Stage (1 day) | | | ✔ | |
| Logo on the Name Badges | | | ✔ | |
| 35 min Speaker Slot at the Opening of the first or second Conference Day | | | ✔ | |
| Sponsor Give Aways for Participants on Display in Exhibition Area | | | ✔ | |
| Sponsor Give Aways for Participants on Display at Evening Event | | | | ✔ |
| Roll-up at Evening Event Location | | | | ✔ |
| Logo on Menu of Evening Event | | | | ✔ |
| 10 min Welcome Speech at Evening Event | | | | ✔ |
Your Contact for Sponsoring Requests
Nadine Wagner (Kontron AIS GmbH)
Phone: +49 351 2166 1940