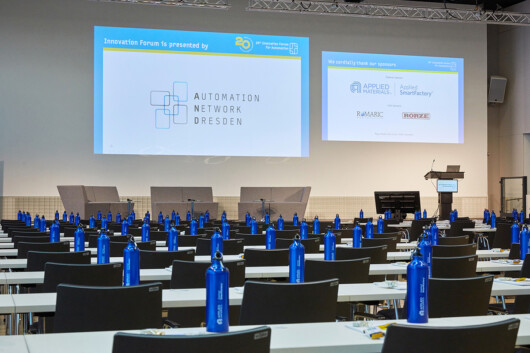 Sponsorship Possibilities
Promotional Opportunities
Put your company in the spotlight: Become a sponsor
You would like to support the next Innovation Forum for Automation as a sponsor? Then book your sponsorship package now! The event offers the ideal platform to present yourself to this tight-knit high-tech community and strengthen your own brand. We offer attractive sponsorship packages tailored to your taste and budget to achieve your marketing goals.
Why sponsor IF2024?
Benefit from an exclusive audience of people involved in state-of-the-art automation projects, incl. best practices from different countries
Network with ​like-minded engineers & experts on automation as well as business developers from various sectors of industry
Brand awareness
Technologies & product placement
Pre- and post-event exposure
… and much more!
Your sponsoring possibilities
Silver Package
€

1.000
Get your company in the spotlight with this popular sponsorship package.
Gold Package
€ 3.000

Participation as a gold sponsor offers an excellent way to raise your profile at the event with a combination of promotional, onsite visibility and content-related benefits combined into a value-priced package.
Platinum Package
€

5.000
Only offered once per conference day a platinum sponsorship is reserved for industry-leading companies. They comprise the most desirable and effective promotional elements of our conference and will receive the highest level of support from the management team.
Club Package
€

5.000
Present your company exclusively at our popular evening event. In a relaxed and convivial atmosphere, your company will receive a unique attention from our participants. Supplemented with promotional elements on conference days and in the run-up to the event a must-have for industry-leading companies.
Open Feature Comparison
| | Silver | Gold | Platinum | Club |
| --- | --- | --- | --- | --- |
| Tickets for Conference & Evening Event | 1 | 2 | 4 | 3 |
| Logo on Website | ✔ | ✔ | ✔ | ✔ |
| Logo, Text & Links on Microsite in the App & on Website | | ✔ | ✔ | ✔ |
| Logo in all E-Mail Blasts | | ✔ | ✔ | ✔ |
| Social Media Promotion | | ✔ | ✔ | ✔ |
| Displaying Flyers in Conference Area | ✔ | ✔ | ✔ | |
| Booth in Conference Area | | ✔ | ✔ | ✔ |
| Logo in the Presentation during Opening & Break | | ✔ | ✔ | |
| Roll Up on Stage (1 day) | | | ✔ | |
| Logo on the Name Badges | | | ✔ | |
| 35 min Speaker Slot at the Opening of the first or second Conference Day | | | ✔ | |
| Sponsor Give Aways for Participants on Display in Exhibition Area | | | ✔ | |
| 2 min Elevator Pitch on stage – for your optimal attention | | | ✔ | |
| Sponsor Give Aways for Participants on Display at Evening Event | | | | ✔ |
| Roll-up at Evening Event Location | | | | ✔ |
| Logo on Menu of Evening Event | | | | ✔ |
| 10 min Welcome Speech at Evening Event | | | | ✔ |
Your Contact for Sponsoring Requests
Nadine Wagner (Kontron AIS GmbH)
Phone: +49 351 2166 1940