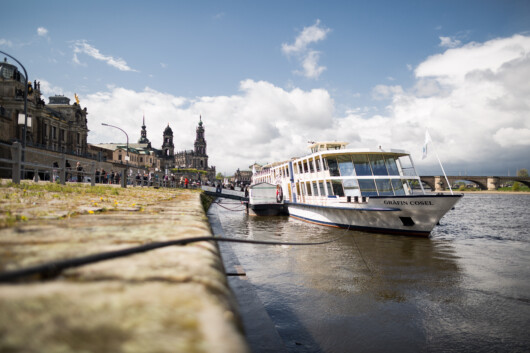 The Evening Event
… and Award Ceremony.
It is all about the people!
At our evening event it all comes together. You'll meet your contacts, new and well known ones in a relaxed atmosphere set up to leverage the USP of the Innovation Forum: The people! In good company with excellent food and drinks our guests share their expertise, discuss different perspectives on the topics heard earlier that day or simply get to know each other in a way that a digital conference can never provide. Take the chance to deepen and extend the relationships to key contacts in your network with the evening event of Innovation Forum.
Venue and highlight of this year's evening event: A boat trip on the river Elbe while passing Dresden's castles in the evening with the salon ship "Gräfin Cosel"
Stylish lounges with panoramic views and comfortable interiors as well as the grand flair on board make a trip on the modern ship "Gräfin Cosel" an unforgettable experience.
After the ship leaves Dresden's Old Town, we pass the historic Elbe castles. Further upstream, passing the famous "Blaue Wunder" bridge, we approach the famous Pillnitz Palace. On the way back you will enjoy relaxing evening atmosphere on the Elbe.
Join us for this remarkable networking event and attend the Award ceremony to find out who will win this year's Innovation Award. We look forward to welcoming you on board!
Date
Thursday, June 30, 2022
19:00 - 22:15 (CET)
Evening Reception
Innovation Award Ceremony & Dinner Party
Location
Terrassenufer
Salon ship "Gräfin Cosel"
Anleger der Elbdampfschiffahrt
Anleger / Pier 4
01067 Dresden
Parking
Carola Bridge, underground parking Hilton, underground parking Q-Park at Neumarkt and Altmarkt, underground parking Semperoper, Altmarktgalerie
Impressions from our last event