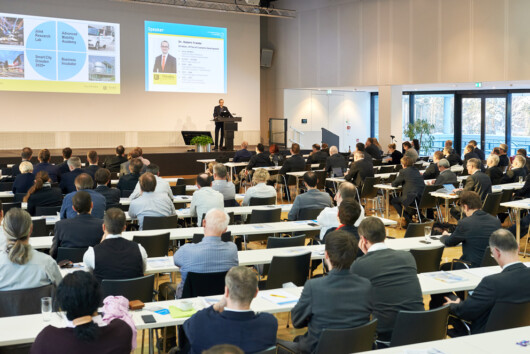 24. January 2017 | News
Intelligent production automation "Made in Germany" recognised with multiple awards
The topic of discussion for experts at the "14th Innovation Forum for Automation" from 19 to 20 January 2017 in Dresden will be how digitization enables mass production within key German industries to advance development and prepare for the future. At this event, providers of automation technology as well as researchers and companies putting this technology into use will demonstrate the opportunities offered by "Industry 4.0" and how new technologies are already changing value-added chains and manufacturing processes at a very rapid pace.
Companies from Saxony with 20 years of experience in automation
Saxony's capital also presents the opportunity to experience exceptional examples of production automation "Made in Germany" live. Inventive, capable German mid-sized companies with more than 20 years' experience in automation specifically for the global semiconductor and solar industries are not only the innovation drivers for these types of intelligent automation solutions but also provide the foundation for new Industry 4.0 solutions. These experts also include automation specialists from Saxony Fabmatics, AIS Automation Dresden, SYSTEMA and XENON Automatisierungstechnik.
These companies founded the Automation Network Dresden (AND) 14 years ago in order to share experiences and to discuss industry trends together with interested companies from industries where automation was under way. With these objectives in mind, this year's "14th Innovation Forum for Automation" offers a look into the future for other industries, such as the automotive industry, in addition to proven Industry 4.0 solutions for the semi-conductor industry.
Innovation via the "Smart Systems Hub"
"More than 250 domestic and international experts from companies such as Bosch, Infineon, GLOBALFOUNDRIES, Texas Instruments, Carl Zeiss or Continental, have accepted our invitation," notes Heinz Martin Esser, Managing Director at Fabmatics GmbH, and board member of the trade association Silicon Saxony e.V. Where innovation is concerned, Saxony has since established itself as an important location. We want to continue to expand these strengths: In the "Smart Systems Hub – Enabling the Internet of Things", specialists from industry and the research community will soon be working jointly on new intelligent systems. The central focal points for this work will be linking micro-electronics, sensor technology, software and connectivity." The semiconductor industry is playing a major role in this process. First, its products create the technological conditions for networked intelligent production. Second, over the course of the past several years the industry has already started producing custom chips based on customer specifications. Factory automation is of key importance here.
Recipient of numerous awards: Infineon Dresden
As an example, Infineon has shown itself to be a pioneer in the area of digitising and networking industrial processes. In the Industry 4.0 context, the company is both supplier and user. For example, wafer transport, system controls and production management at Infineon Dresden are now linked to each other and controlled in real time via IT systems. In addition, production communicates with other locations around the world. This work was recently recognised by Manager Magazine with the "Game Changer Award". This award is handed out by the editors along with business consultancy Bain & Company in recognition of "disruptive business models", in other words developments that are changing entire industries. The jury honoured Infineon in the category "Operations of the future" for its global networking of production to create a virtual factory.
The trade publication "Produktion" also selected Infineon's Dresden plant as "Factory of the Year" – in the category "safeguarding production sites through digitisation". This award honours the winner of a competition that has since come to be seen as the toughest benchmarking for the manufacturing industry in Germany and Europe.
Infineon currently has just over 2,000 employees in Saxony's capital. Even though it has already been in operation for more than 20 years, it is the company's most modern factory. The 200mm production line in Dresden has the highest level of automation in the world. Part of the required automation technology was developed in close collaboration with companies in the Automation Network Dresden. The first 300mm high-volume production line in the world power semiconductors was designed as a highly automated factory from the very outset. Other companies, such as Bosch and Texas Instruments, will also speak about their experiences with automating existing factories at the "14th Innovation Forum for Automation". The "Smart Fab" is an important step for the semi-conductor industry in order to remain successful in global competition from its base in Europe.
Innovation prize to automotive component supplier Continental
The automotive industry has been under similar pressure to innovate for many years. The Continental AG will be awarded the Innovation Prize at the "14th Innovation Forum for Automation" for its work in the automated production of miniaturised Piezo actuators. The company operates its competence centre for the production of common rail diesel injection systems at its factory in Limbach Oberfrohna, Saxony. These devices make it possible for modern combustion engines to make especially efficient use of this form of fuel. Continental has brought a new generation of these systems to market that are based a significantly more efficient Piezo actuator.
"Miniaturisation in particular requires entirely new manufacturing technologies", explains Dr. Udo Kreißig, Director Technology and Manufacturing Planning Diesel for Injectors at Continental. "Passivation in the pm-layer density must be performed under clean room conditions, along with high-precision laser processed structures in order to expose interfaces in the Piezo layer and rebonding with a vacuum coating machine. Finally, the electrical connection is produced via ultra-thin lead frames that enable the Piezo actuator to move."
For downloadable images: (approx.. 1 MB), © Automation Network Dresden:
For questions:
Fabmatics GmbH, Kathrin Maletzki, Tel. +49 (0)351 65237-230,
Kathrin.Maletzki@fabmatics.com