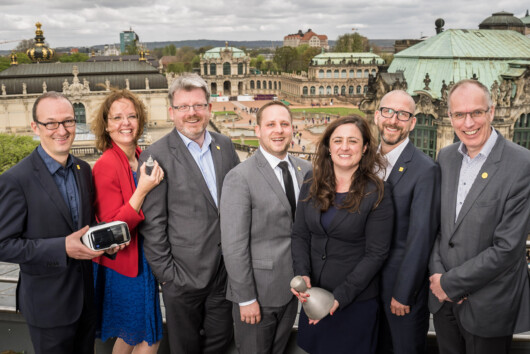 26. April 2017 | News
Dresden on its way to becoming the IoT centre of Europe
Companies and research institutions in Dresden present "Internet of Things" basic technologies for
digitising industrial. Hardware, software and connectivity: A unique concentration of know-how in key areas for smart systems at the high-tech hub Dresden.
Companies and research institutions from Dresden comprise the entire research and development value-added chain for smart systems and the requisite enabling technology such as semiconductors, semiconductor software, automation solutions and the new 5G wireless communications standard. This unique concentration of know-how for the "Internet of Things" and Smart Systems is also the focus of the Dresden presentation at the Hanover Fair 2017 between 24 and 28 April. "What makes Dresden unique: No other region in Europe brings together such comprehensive technology know-how related to developing "Internet of Things" solutions," according to Dr. Robert Franke, Head of the Economic Development Office for the City of Dresden. "As a result, Dresden brings together in a single location critical success factors needed to help industrial players advance digital transformation using IoT-based technologies. Know-how ranges from basic and materials research for microchip output components to high-volume chip manufacturing and IT programming all the way to their application in products manufactured here."
Germany as a home to industry: Smart systems as the most important technology components for digitisation
As a traditionally strong industrial nation, Germany is a pioneer in industrial digitisation. Intelligent systems represent the central components for technology-based solutions that pave the way for fully-networked, highly-automated industrial production. Integrated sensors collect data from their surroundings; electronics and software autonomously process this data; the results are communicated via an interface and decisions are triggered automatically. Smart systems are not only key to the success of all processes comprising "smart fab" but also indispensable for driver assistance systems in vehicles, for intelligent medical implants or modern security systems.
"Smart Systems Hub" Dresden is becoming a global centre
On April 21, 2017, the federal government of Germany awarded the Dresden location as part of its digital hub initiative for the planned "Smart Systems Hub – Enabling IoT". This is one milestone on the way to becoming a global competence centre for key IoT technologies. Silicon Valley represents the world's leading example for the success of a digital hub. Dresden is being transformed into the primary address for IoT basic technologies and the associated challenges such as IT security and data protection. The Hub concentrates Dresden's large technology companies, start-ups and researchers from exceptional research institutions from Germany and around the world at a single location in Dresden. The "Smart Systems Hub" is intended to provide long-term support for key industries in the microelectronics industry as well as to place primary focus on Saxony's medium-sized enterprises.
Industrial IT: Automation know-how from the high-tech sector for shoe production
Dresden system integrations firm SYSTEMA – a founding member of the "Automation Network Dresden" (AND) – has many years of experience providing automation solutions to the semiconductor industry. Today, the company also applies this know-how for process automation projects and plant integration in other industries. For several years, SYSTEMA has been relied on close collaboration with SAP. In Hanover, SYSTEMA will demonstrate the requirements of more flexible production processes and smaller batch sizes based on the example of made-to-order shoes. Customers can place an order digitally for a customised shoe for themselves which is then manufactured on the basis of a fully-automated process. "We are able to digitally map the ordering and production processes for this bespoke production from start to finish. In this context, we benefit from the use of established fundamentals for high-tech factory automation," explains Benjamin Abraham, Senior Manager at SYSTEMA. "Buying a shoe becomes more individualised, faster and less-expensive for the customer – the entire ordering and production process happens in Germany. This example shows that intelligent manufacturing can save and even create jobs at home.
Additional information about the Hannover Messe 2017: www.hannovermesse.de
Digital press folder and images for download (for free use by media representatives)
http://datas.weichertmehner.com/hannovermesse2017.zip
Photo credits: Dresden Marketing GmbH / twenty4pictures